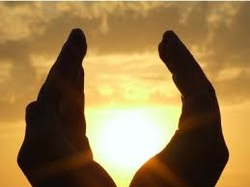 by Belinda Lams
Life transitions have this phase that I call the "messy middle." It's the part that comes between what we're leaving and where we're headed. Why messy? Because often it's the place where we aren't sure what to do and may not be sure where we're trying to go. In this state of unknowing, there are urges that try to quickly lure us out of the messiness. One urge is to hightail it back to where you started. It's familiar. It's probably more comfortable. And yet there was a reason or ten that you had to leave. Another urge is to speed up the process and impatiently force something or anything to happen, just to end the discomfort. And then, there may be an urge to run away from the entire operation.
Why put myself through this? I'm outta here!!!
BTW, my favorite, "I'm outta here" scenario goes like this: I move to an anonymous town and get a job in a hotel as a maid. I quietly do my job, have just enough to live on, and let the days roll by without getting involved in life. Of course it's ludicrous if I think it through, but in moments when things seem a bit much, I have that little disappearing fantasy on the back burner of options.
Back to the messy middle...The tempting strategies I mentioned—retreat, rush, run—will only short-circuit the process. I've found that the most profound and powerful strategy is to hold the space. Hold the messy middle and allow the discomfort. Don't try to wiggle out of it, as hard as it may seem. Like my friend Sue who I interviewed. (
Listen here
if you missed it.) She is holding the space of discomfort with the separation from her husband and the unknown future.
What does it take? It takes some strength and resolve to hold an uncomfortable posture. Sometimes you have to play little mind tricks so you won't give up. It takes being in the present moment as if it's just as important as any other moment. It takes belief that the new place must be honored by allowing the process to get there. It takes trust that the whole journey is worth it. I'm quite certain that if we can hold the space open, it creates room for the new thing that wants to emerge...the thing we really, deeply want in our soul.
If you think about it, our whole lifetime between birth and death is the "messy middle".