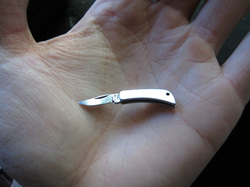 by Belinda Lams

Ever heard someone say, "I am so upset about ___________, but I really shouldn't complain. After all, there are so many people who have a much worse ____________ than I."

I hear it a lot. It's called minimizing. We all carry angst, hurt, pain, and uncomfortable issues in our lives. We want to complain, vent, and solve them. But when we judge the issue as petty, or compare it to some huge catastrophic issue, ours pales...then we shut it down. We deem that it isn't worth the attention. I get that we want to have a wise perspective. I believe there are appropriate times to use that strategy. However...

Here's what I often notice: people bring up the issue that is plaguing them, they minimize it, and the issue keeps raising it's head. Over and over they battle with the issue, telling it to go away, that it's not worth any time or energy. Over and over it comes to the fore. The cycle doesn't end. So, while they may have decided that it's not important, somewhere in some sense it is very important.

For instance, I just spoke with a man who manages an office of 20 people. His company had to downsize and move the entire team to a much smaller facility. The space was now crammed with noisy cubicles, and the manager had lost his private office. In order to make undisturbed calls to his clients, he was ducking into the conference room, the bathroom, even his car. He was incredibly frustrated and disheartened. I said, "Wow. That's sounds tough." He immediately said, "Well, I shouldn't feel like this because after all, you lost a child. How could I complain about THIS?" (Don't think I let that one go).

He compared his issue to something very tragic in order to minimize his pain and chop it down to a manageable size, in hopes that it would just disappear. But, as he elaborated, it hadn't disappeared. I encouraged him that perhaps he needed to give it some attention. Maybe he needed to vent the frustration instead of shutting it down. Maybe there was something underneath all of it that was really important for him to find out about his life. After all, it was relentlessly bugging him. Could there be a message there?

How about you? Is there an area that you catch yourself minimizing? Are you sad, hurt, angry, frustrated over something, but refuse to acknowledge it and work it through? Maybe that thing isn't all that big, but it's big enough to frequently jump into your consciousness.

Believe it or not, resisting it actually gives IT more power.
Accepting it, examining it, and working it through actually gives YOU more power.

Questions? Comments? Leave them below.