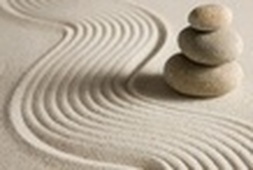 by Belinda Lams
I was recently asked to describe what I "do."
What is my particular brand of coaching? I said to this gentleman, "Well, at the core, I help pull out the essence of a person, which tends to get buried under there somewhere," pointing to the heart.
"Then I help the person align to that truest, highest part of who they are and learn how to live from that authentic center in everyday life."
He said, "So...you're a chiropractor for the soul."
Hmmm.
Think about it. What is it like to be out of alignment in your body? It's uncomfortable. It starts to wreak havoc on your nerves, muscles, and movement. Now apply that to your life in general. When you are out of alignment with your true self, life isn't working very well. You have inner conflict. You have a sense of dis-ease...disease.
On the flip side, what is is like to be in alignment? Things seem right. Congruent. Life is working, flowing, healthy. You have a sense of well-being. (If you didn't notice already, this one is better. Being in alignment with your truest self is definitely the one to pick here.)
Funny thing is, most of us walk around out of alignment a lot of the time. Why? Because it requires effort to access the deep, inner self and it's not the default position of the human being. We tend to default into our ego self (as Rabbi Finley calls it). We walk through life solving, managing, operating in what seems to be all of who we are. But at some point, we find ourselves in some kind of turmoil, or making poor decisions, or having relationship struggles, or addiction problems. We find ourselves way, way out of alignment, chafing against the part of us that wants something better.
When we live according to our default position, though it seems pretty good (and it can be), it isn't enough. We must find that wiser, truer, still, small voice of our soul which helps us become aware of a better way to operate. In this center place, we can find love, we can find compassion, we can find forgiveness...the qualities that bring the rest of our being (including our bodies) into better form. We become aligned. At ease.
So, how do you get there? Well, this is the first step. You need to know that it's possible. Then you need to access that higher self. On a very practical level, here is something you can try right now.
Take deep breaths and think about certain words as you slowly breathe in and out. Imagine each word filling your whole being. Words like:
Love...freedom...kindness...beauty...forgiveness...acceptance...hope...radiance...healing...
You can see right away that these words are from the higher self. Right? For instance, if you say words like compete...strive...worry...manipulate...demand...blame...you will have a very different experience. (Don't use these.)
Now, practice filling your mind and body with soulful words over and over. Drink them in. Let them wash in and through you until you feel a softening, maybe even a blissful sensation. Practice them every day, every time you think of this. Make it your prayer. You will slowly begin to shift yourself into alignment. You may notice yourself a little lighter. A little kinder. A little closer to true you.
How do you get in alignment? I would love to hear. You can email me or leave comments here.