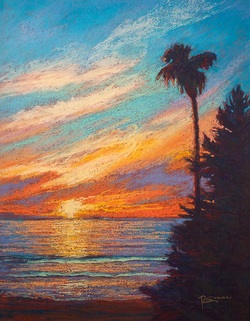 "All To His Glory" by Paula Somma
by Belinda Lams

My friend Paula took up painting with pastel chalks. One of the brilliant attributes about pastels is the ability to erase.

If the artist doesn't like the piece, she can actually take a brush and swipe the canvas. However, not all of the chalk can be removed. There are remnants of texture and hue left behind.

The beauty is that these remnants become part of the next draft. They are incorporated into the new picture, providing some of the richer qualities that weren't there the first time around.

Paula says it makes the painting more beautiful than it was originally.

I believe her.

The losses, the hurt, the pain, the mistakes - they are all a part of the painting we create with our lives. As we learn to incorporate the dark night of the soul, we become a person of depth; rich with color and lined with character.