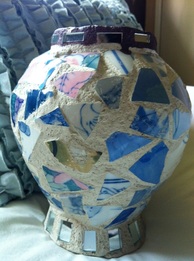 by Belinda Lams

For those days when life seems unbearable, I want to offer a little remedy to help you find some relief. It won't cure you of your ails, but it will certainly lighten your load for the time being. It goes like this...

Ready?

•Grab a jar or container of some sort.

•Get a stack of post-its and a marker.
(don't laugh...for I am the post-it queen)

•Sit quietly with yourself and listen to all your rambling negative thoughts. Feel all your negative feelings. Just allow all of everything to be present. Don't shove anything away.

•When you're ready, write each negative thought, feeling, emotion down on the post-its.
Write until you've exhausted yourself and there is not one ounce of bad air left inside your heart.

•Fold, squash, make origami, or whatever you want to do with your post-its. Then put them into the jar.

•Look at the jar.
Notice that all the false thinking, disappointment, hurt, grief, fear, shame, guilt, worry, contempt, judgment, jealousy, envy, anger...it all resides in that jar.

•Now tune into your body.
Become aware of what it feels like to NOT house all that darkness.

Ah oh...is there another negative thought? Did you just judge yourself? If so, you're not done. Write it down. Put it in the jar.

•OK. Check yourself again. Are you clear?
If so, take a moment to experience yourself unburdened. You may feel very light. You may feel neutral. You may feel tired. You may feel like laughing. Whatever is there, allow yourself to experience it. Get to know yourself without all the crap that clogs your pipes.

One more step...

•Make a commitment to hold this space just for today.
You can go back to your negativity and pain tomorrow, but not today. Every time you think about picking up the post-its and placing them back in your body, just remember that you're not allowed to today. Those are the rules.

If you are REALLY compelled to grab the bio-hazard in the jar and gulp it down, go for it...just wait until tomorrow. Give yourself one day to fly free.

Good luck. Let me know how it goes.

Love you!!!!