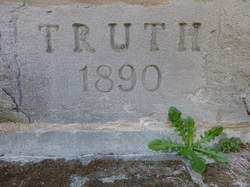 by Belinda Lams

Remember Jack Nicholson's famous line in "A Few Good Men?"
"YOU CAN'T HANDLE THE TRUTH!"

He's right. Sometimes we can't, or don't handle the truth. Especially when it comes to telling it to ourselves. We have this amazing capacity to suppress, repress, avoid, deny, deflect, and project in order to keep the truth from coming anywhere near our consciousness.

I worked with a woman a while back who was experiencing anxiety issues and wasn't able to pinpoint the cause. I gently suggested that there was something deep inside that she wasn't willing to acknowledge. Perhaps it was trying to make itself known by presenting as anxiety.

She pushed back, insisting that there was nothing she was hiding from herself. But over time, peeling back layer by layer, it came out. She was extremely unhappy in her marriage. Thud! She didn't want to think the thought, let alone say it out loud. A whole life had been created around a lie which she affirmed to herself daily.

Her fear of facing reality had kept the truth buried deep below the surface.

Why? Because, it would require her to do something that she wasn't willing or ready to do. She would have to admit that her life was a disappointment, a sham. Or reveal her deep sadness at living so many years in a relational desert. She may even have to pursue divorce. Those possibilities felt like death to her, yet holding her truth in the depths was slowly killing her anyway.

So...she allowed it to emerge. The anxiety dissipated.

Yes, the truth can be uncomfortable, even painful.
Yes, it might require a difficult decision or a higher level of responsibility.
And yes, it holds the key to your deliverance.