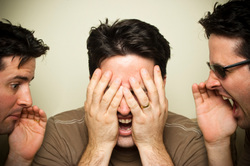 by Belinda Lams

In his book, "The War of Art," Steven Pressfield gives a name to the mysterious force which blocks us from getting to our important life work.

He calls it Resistance...with a capital R. Resistance can come from within ourselves or from without.

Internal resistance may manifest as voices in your head with suggestions of fear, doubt, procrastination, guilt, cynicism, worry, dread. It can also show up in your body with anxiety, paralysis, illness, and the like. Any of those sound like the kind of resistance you encounter?

External resistance often comes from outside circumstances, much like a boulder blocking your path. It may also come from other people. Ever have someone close to you "act out" when you attempt to change something in your life?

Whenever you seek to change, grow, or transform your life, you will be challenged by Resistance along the way. So what can you do about it?

I have a simple 5-step solution to help you become a victor instead of a victim.

Resistance doesn't have to get the last word.

I'm not saying it's easy—but I am saying it's possible.

Step #1: Accept it.
Resistance is part of the human experience. It doesn't mean something is wrong with you. On the contrary, it usually means you're on to something.

Step #2: Anticipate it.
Since it is part of life, then it doesn't have to be a big surprise any longer. In fact, you can expect that it will show up as soon as you try to take positive action, especially with your deeper life purpose.

Step #3: Acquaint yourself.
Each of us has a signature blend of Resistance. We have our vulnerabilities where Resistance can operate most effectively. Some of us are more prone to fear, some more to guilt, some to procrastination. The key here is to become acquainted with your particular brand.

Step #4: Acknowledge it.
Once you become more conscious of your patterns, you can acknowledge when the Resistance shows up. This puts you in the seat of power. You can say, "I've been expecting you. You're not going to take me out. I've got a plan."

Step #5: Redirect it.
And the final step is to redirect the pathway of the Resistance. Instead of allowing it to have it's way with you, send it in a different direction by intercepting it before it takes you out. This requires learning some strategies and practicing them in advance. (I teach these in my Soul Activator course).