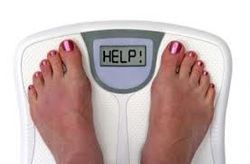 by Belinda Lams

Alright. Step up on the scale. Let's see how you're doing. Feel a bit nervous? You're not alone.

Accurate assessments of your current condition can be like a cold splash of water in the face. You can't lie to yourself. You can't pretend. The facts are there staring back at you.

If the scale doesn't lie, and you don't like what it says, then what are your options? Certainly, you can dismiss the findings as impossible. You can feel shocked and bewildered. You can become depressed and despairing. Or you can find some kind of inner resolve to change your life.

To change your life requires willingness and trust to let go.

Willingness to let go of the habits, the clutter, the thought patterns, the ideology...anything that prevents you from achieving your "ideal weight." And trust to believe that when you leave a space, it will be better than holding onto what you have right now.

What is weighing you down? What is in that bag of rocks you're dragging behind you everywhere you go?

Perhaps there is a relationship you need to release, a commitment you need to re-negotiate, a space you need to clear, a resentment you need to drop.

Whatever you discover when you step on that scale, let it incentivize you to release anything that is between you and where you want to be.