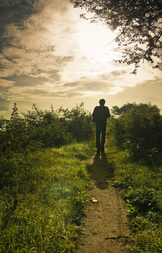 by Belinda Lams

You finally admitted that you're stuck and you really need to change your life. You are in angst and frustration and it's not getting better. You've prayed, cried, begged for something to change, but it hasn't happened...yet.

Reminds me of this old joke.

A man is sitting on his porch when flood waters begin to rise. A woman floats by in a boat and offers him help. He says, "No, I'm waiting for God to help me."

Flood waters get higher. The man moves upstairs. A rescue boat comes to his house and the officer tells him to get in. He says, "No. I'm OK. God will provide."

Flood waters rise even higher and now he's up on the roof. A helicopter flies overhead and lowers a ladder. The man shouts, "No thanks! The Lord will save me!" And with that, he is overtaken by the flood waters to his death.

Appearing before the Almighty, he asks why God didn't save him after he pleaded for help and had faith that could move mountains. God says, "I sent you 2 boats and a helicopter. What more did you want?" (p'dum pum)

Sometimes we don't recognize the very obvious thing that could answer our prayers. We get so used to our well-worn path of pain and can't imagine that making a even a slight shift could put us on the road to freedom.

Remember the Bible story of the Israelites enslaved in Egypt? When the long-awaited opportunity came to spring, not all of them left. Some of them opted to stay and complain rather than risk the unknown trek into freedom. Perhaps the pain of staying has to be greater than the fear of leaving.

The road to true freedom is the road less traveled. Will you take it?