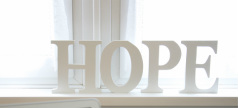 by Belinda Lams

I was coaching a woman a while back who was struggling to describe her current situation. She said, "I'm in this place where I just can't stand to be in my life the way it is anymore. It's feeling empty and I'm checked out. I'm eating too much, breaking my commitments, blowing off time on the internet. I need to find something else, otherwise I'll just go crazy. I just don't know what I want right now. I'm lost."

I said to her, "You're in a transition." She immediately felt a sense of relief. The word transition named it and also gave her hope that she wasn't eternally lost. She was just in a season.

I love that about names. When we name something, it's as if we draw a circle around it, giving it borders and definition. We put it in a container and it helps us regain a sense of control and purpose.

I remember when I named my "lost" period last year. I came to a halt with my business and needed to step away to determine if I wanted to continue. I really didn't know what was going on with me except that I had to stop. For a few weeks, I felt really horrible about myself. Why couldn't I just force myself to get back in there? But instead of fighting a losing battle, I listened to my inner voice and stepped back for a season. In trying to describe what was going on to others, I longed to quantify it...sum it up. It dawned on me to give this experience a name. The perfect name was Sabbatical. Yes. I was taking a Sabbatical. I could live with that. This season had a name and a purpose and I was relieved and grateful.

In "Mindsight" by Daniel Siegel, he talks about putting a label on your emotions. When you feel fear, encapsulate the emotion with a word. Fear is not all of who we are, but in the moment, it feels like it's our whole identity and will last forever. He says, "Name it to tame it."

Same with Steve Pressfield in his book, "The War of Art." He personifies the creative struggle as Resistance, with a capital R. Resistance is real AND it's not all of who we are. It's manageable.

It reminds me of when I used to organize homes. At the end of the whole process, I would pull out my label-maker and stick a name on a container of items. Office Supplies. Tech Cords. Memorabilia. It corralled the chaos.

Is there some amorphous experience you're having that is causing you to feel overtaken, confused, lost, out of control?

Give it a Name.