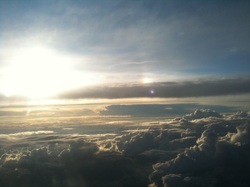 Belinda Lams

"My body was filled with pure light. I felt each cell start to go through a metamorphosis. It was pure bliss. Death transformed me into another kind of body. It's beautiful."

This is the account Kristine, my dental hygienist, shared with me as she scraped my teeth clean.

It happened a year and half ago. Kristine, in her late 50s, had picked up a heavy ladder to put in her car. She felt a pressure surge into her head as if her brain was exploding. A clear and firm voice from inside her told her to call 911 because she only had 5 minutes. She giggled with joy that He would speak to her directly. Then...she called 9-1-1.

The operator kept her on the phone while the paramedics raced to pick her up. All the while Kristine was slipping away. Her next memory was in the light. No pain. No fear.

A voice told her that they knew she was tired in her life. They said she could stay there, or choose to come back to earth because there were a few more things for her to do. She said, "I'm very tired, but I love you so much. I'll go back."

She awoke to find herself in ICU and learned she had suffered a brain aneurism. During her time in the hospital, she found out that her 29 year-old daughter had become pregnant. Kristine was able to help her daughter through a rough pregnancy of bedrest, and now enjoys caring for her beautiful granddaughter almost every day. It's the joy of her life.

She shared with me some deep lessons that she understood immediately while in the light.

All of us are here for a purpose. We are all connected, but feel separate down here in this murky realm. We must accept that each person we encounter and each situation we have is what we need to experience. Things don't make sense down here, but they do up there. We need to become aware of our lives. Accept ourselves. Accept each other. Learn. Love.

She told me she would go through many more brain aneurisms just to have that experience again.