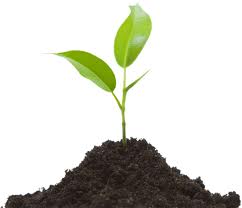 by Belinda Lams

My husband and I started an organic vegetable garden a couple weeks ago. We planted eggplant, tomato, jalapeno, persian cukes, radishes, spinach, kale, and lettuce.

Everyday, we run out to the garden to see if anything has happened. Are they growing? Did they get eaten by our resident possum posse? Do they need more water? Less water?

(I actually brushed aside the top dirt to see if there were any germinating sprouts that hadn't popped through yet. Can you say over-anxious?)

We had planted 16 radish seeds in a 4X4 pattern. 14 of them popped through, but the other 2 hadn't sprung yet. I started worrying about those 2 seeds. Why haven't they grown like the others? Is something wrong with them? All the other ones seem to be doing just fine.

Ok...let me get to my point, cuz you know I've got one.

I too had been feeling like those 2 radish seeds that were still under the dirt. I was feeling like it was taking me forever to figure out my life. I started comparing myself to all the other people who have sprouted. They are all so evolved. I'm still under here under the dirt, trying to germinate. There must be something wrong with me. Why is it taking me so long?!

And now, the lesson:

We all develop in our own time. In our own way. Forcing ourselves to develop faster than we can doesn't work. I know. I've tried it.

If we become aware and accept where we are, we can unfold beautifully and naturally...even enjoy the growth process.

So, I have since realigned with my own unique pace of growth. I will pop up when I've had enough time under the ground.

BTW, the other 2 radishes have emerged and they're doing just fine.