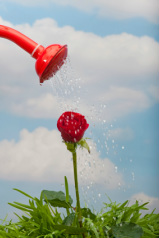 by Belinda Lams

FIND WHERE YOUR SPIRIT DWELLS...AND FEED IT

I've been walking past this sign for a week now. It's posted on a marquis at the corner church/synagogue that I pass on my way to the gym.

It got me thinking...We all feed our body, right? If we don't get nutrition, we get depleted, sick, and eventually die. Ok. That's obvious.

(I just heard of models eating cotton balls and tissue to fill their stomachs. REALLY????!!!!!)

Now our soul, our inner being, is more subtle than our body. Harder to find. Maybe that's why the sign says to find where it dwells. Maybe that's why so many people don't nourish their inner lives.

We have a hunger, a longing, but it can be quickly staved off by filling up on some cotton ball activities. There's always an empty substitute available.

If we keep doing this, we will end up with soul anorexia. We will become the busy, distracted, walking dead.

What nourishment does your soul need? It may not be the same meal all the time. What does it need right now?

We must feed our souls to thrive.
We must find our souls to feed them.
We must make time to find our souls...every day.