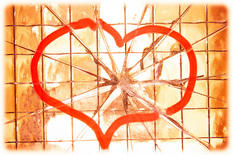 by Belinda Lams

I had finally mustered up the courage to share my opinion in a group discussion.
Immediately, I was corrected by a woman who told me that I was wrong and proceeded to explain how her opinion was the right opinion.

While I listened to her expound on why I needed to think like her, I felt this underlying pain inside. She touched an old wound that had been lying dormant for a while.

I learned long ago not to share my opinions with certain people and then I wouldn't have that pain. But instead, I decided to risk and there it was...the old wound being irritated by the salt of her words.

I began to do what I normally do; mull it over and over, indulging the pain, then making a vow to never do THAT again. It's kind of like throwing a bandage over a large bleeding cut that really requires stitches in order to heal properly. The bandage will protect for a bit. It's a quick, temporary measure. But, anytime the wound is bumped, the bleeding will start again.

But this time, instead of going down my well-worn path of putting on the bandaid, I remembered that I could do something different. I became curious about my old wound. I decided that perhaps it was time to find healing.

Old wounds are only recurring because we haven't healed them yet. So, when pain surfaces, perhaps it is telling us that it wants to be healed. We have the choice to exacerbate, tolerate, ignore, or shove it back into the depths. We also have the choice to bring it up, examine it, and give it some proper stitches.

I chose stitches. It will take a while to heal. I know it must be consciously cared for until the pain diminishes. Hopefully, I'll only be left with a small scar to remind me of the choice I made.