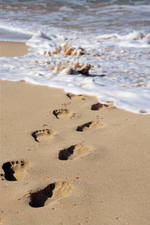 by Belinda Lams

The other day, I was about to walk past the 99-year-old father of my friend. I said a passing hello, when he grabbed my arm and stopped me in my tracks. I've had conversations with this gentleman in the past, but none as intent as this one.

He said in his thick Hungarian accent, "Do you know how old I am?"

"Yes," I replied. "You're 99."

He continued, "That's right. I want to make it to 100. I'm almost there."

I politely tried to excuse myself and move on with my original objective, but he insisted on keeping me there. He told me about his life, about his wonderful son and three granddaughters...all the while firmly gripping my arm and looking deeply into my eyes. I finally succumbed to his wishes and shifted my attention to being present and listening well. It was as if he desperately needed me to know his story.

I just found out that he passed away. He didn't make his 100th birthday.

A wise friend of mine said that when people are on their way out (aware of it or not) they are often compelled to tell their story. It's as if the soul knows it's going to leave soon. (Beverly apparently did the same thing before she died. See my previous blog "What Death Teaches About Life").

If the soul knows it's going to leave and wants to be known before it departs, then perhaps the story we're writing with our lives is even more important than we realize.

Something in us wants to leave a legacy. We want to know that our life mattered.

What is the story you want to write with your life? What is the legacy you want to leave behind? What are you willing to do about it?