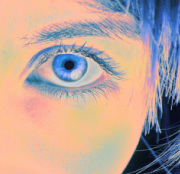 by Belinda Lams

I love to help people find a compelling vision for their lives. What we can envision is possible to actualize.

We are all beneficiaries of people who have taken a vision in their heads and created a genius invention, a piece of art, a curriculum, a formula, a cure.

All of the great imagineers hit a wall; that stuck place where they can't find their next step. It may feel like a crisis and the temptation is to give up. However, the wall has a door, but it needs to be found. The problem isn't the lack of a door, but the inability to "see" the door.

Here are some blocks that prevent "sight" and some simple remedies (And yes, please try these at home):

•It's too dark. Get more light.
•Your vision is blurry. Use magnification.
•You have cataracts. Get surgery to peel them off.
•You're wearing dark glasses. Remove them.
•Your eyes are closed. Open them.
•Your eyes are diseased. Seek healing.
•You're looking in the wrong direction. Turn your head.
•You're staring at the door, but your mind is elsewhere. Wake up and be present.
•You're staring at the door and don't recognize it. Get a new perspective.

Where is your door?
What is blocking your vision?
What do you need in your life to help you see?