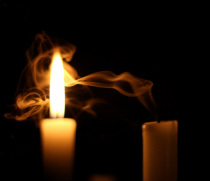 by Belinda Lams

I went to Beverly's funeral yesterday. She had lived a good, long life, but her sudden death was shocking and unexpected.

A friend sitting next to me during the service said that she would let Beverly's life remind her to seize each moment. She wouldn't wait until tomorrow to say or do the things that mattered to her. She often waits.

Out to the gravesite, dirt being shoveled on top of the white box, a young mother said that she would keep this as a reminder to connect with her children. She gets caught up in the hustle bustle of daily life.

I was again reminded why I do what I do with my life.

I too had the lesson at a funeral years ago. I also made a decision to make each day count. I didn't want the hustle bustle to be my excuse. I wanted to ensure that it wouldn't take another funeral to wake me up.

So I built it into my life's work.

I vowed to help other people find their deep desire and purpose and live it out each day. While I help them, they help me, and together we keep the lesson alive.

This little quote sits on my desk. I found it right after my daughter died.

"Many people don't know that there are angels whose only job is to make sure you don't get too comfortable and fall asleep and miss your life." -brian andreas

What keeps you awake?