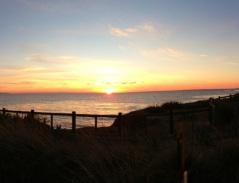 by Belinda Lams

I recently celebrated my day of birth. As I walked on my favorite trail, the sun shining on my face, I smiled with recognition that all is right in my world. At least right now.

It's not always like this. I know all too well. Those of you who know me, know that I've lived through horrible tragedies. But on this day...all is well. And I must acknowledge this moment and not let it slip by.

I'm tempted to think that life is supposed to always be good and just slough off the times when everything seems to be in alignment. You know, climb into cruising altitude, as if goodness is a given.

It reminds me of a friend whose mother would never praise her for her positive qualities and achievements, but was more than happy to dole out criticism when she did wrong. Her reason? "She's supposed to do good. Why should I acknowledge that?"

How often do we do that to ourselves? Hyper-focusing on the short-comings, the way life isn't working and miss all the times when it is really beautiful...when we are really beautiful.

I want to savor.
I want to remember.

How about you?