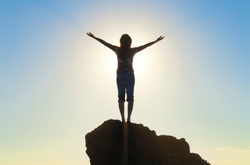 by Belinda Lams

Welcome to my first post of 2013.

Last night, I watched a documentary about the life of Elie Wiesel. After surviving the atrocities of the holocaust, he became a massive advocate for human rights all over the world.

I then looked at my new bi-line for Soul Organizer...create your best life from the inside out. It almost shocked me that my life is about helping people live their BEST life when so many people have suffered so deeply, just trying to have a life at all! The juxtaposition...stunning.

The reason I get to do my work is because someone like Elie has done his. The foundation for freedom is starting on a much higher level in these days of human rights, especially in the US. We're not in mere survival for our lives. Most of us are not starving or being oppressed by a tyrant from the outside. The kind of suffering we typically experience is from our inner struggles and choices, or figuring out how to have relationships with other alive and free people.

Yes, there is plenty to do in order to elevate our lives from this new foundation. I'm all about that. But, what a privilege that we are at this stage in history. I'm on my knees in gratitude.

Feel free to leave your comments.